patlet.htm


11/21/96 HyperLaw, Inc.®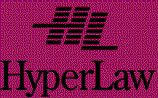 HyperLaw Letter to Patent Office Opposing Database Protection Treaty
"Back to Database Protection Page"

---
HyperLaw, Inc.
17 W. 70 St.
New York, NY 10023
212-787-2812
sugarman@hyperlaw.com
November 21, 1996
Via e-mail diploconf@uspto.gov
Mr. Keith M. Kupferschmid
Commissioner of Patents and Trademarks
Box 4, Patent and Trademark Office
Washington, D.C. 20231
Dear Mr. Kupfershmid:
We write in complete opposition to the Database Protection
Treaty. Enclosed is a monograph that spells out several of
many problems with this special interest end-run around the
United States Constitution and the Copyright Act. It is
apparent to all that the Administration is speaking only for
the special interests of certain segments of the information
industry. Indeed, the proponents have silenced the
Copyright Office and distorted law and will supersede 200
years of American copyright law. The deliberative process
required by the Constitution is not met by pro-forma
proceedings supervised by non-elected maniacal narrow
proponents who have already made up their mind.
The process is a charade -- and, we urge that the
Administration avoid further embarrassment by tabling
database protection until it is able to obtain similar
domestic legislation coupled with strengthening of the
antitrust laws after an open hearing process where all
lobbyists are registered and campaign contributions
disclosed.
Indeed, the charade is emphasized by the fact that this
letter is being sent to the Commissioner of Patents and
Trademarks rather than to the Copyright Office which may
have had some recognition of the radical nature of these
proposal.
We challenge the Administration to introduce legislation to
this same effect in January, if it is able to find someone
to propose the bill, and then Congress may follow through
with proper open hearings and deliberative study and
analysis, including analysis of the Constitutionality of the
provisions.
Sincerely,
Alan D. Sugarman
President
Attached: